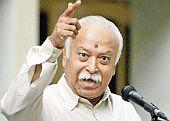 Defending Rashtriya Swayamsevak Sangh chief Mohan Bhagwat's controversial remark that rapes hardly take place in 'Bharat', but they occur frequently in 'India', RSS spokesperson Ram Madhav on Friday said that the outfit had 'great respect for women'. 
 
"The statement of the RSS chief should be taken in proper perspective. He (Bhagwat) has already demanded strict punishment for rapists and even called for death penalty if required," Madhav said.
 
"All that he said is that in Indian tradition we have great respect for women and we should learn to uphold this tradition. If one goes away from this tradition it will result in rise of crime against women,'' he added. 
 
Addressing a citizens' meet on Tuesday during his four-day visit to Silchar, Bhagwat criticized 'western' lifestyle of the people in urban areas and said, without empirical evidence to back such a claim, that rape is prevalent mainly in cities where Indians are deeply influenced by western values and not by rural India. 
 
"You go to villages and forests of the country and there will be no such incidents of gang-rape or sex crimes. They are prevalent in some urban belts. Besides new legislations, Indian ethos and attitude towards women should be revisited in the context of ancient Indian values," he added.
 
However, Bhagwat said he wanted stringent laws in sexual crimes against women and will favour capital punishment for those convicted of rape.