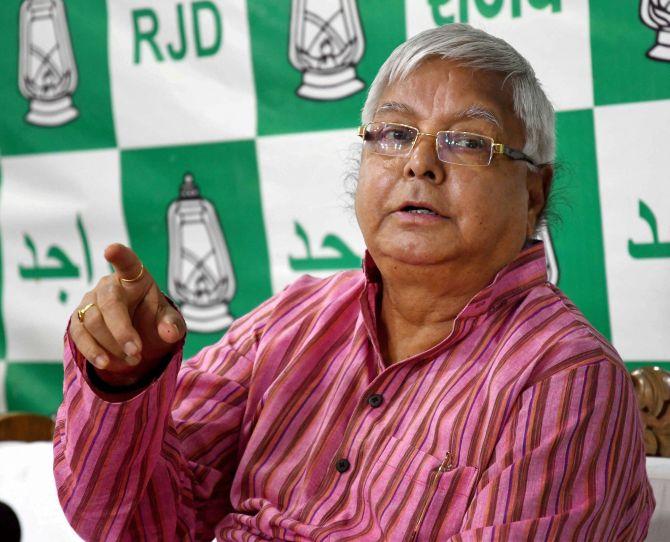 Lalu also said that Bihar Chief Minister Nitish Kumar has committed political suicide by joining hands with the BJP.
M I Khan reports from Patna.
Days after an attack on Rahul Gandhi's convoy in Gujarat, Rashtriya Janata Dal chief Lau Prasad Yadav on Tuesday accused the Bharatiya Janata Party and Rashtriya Swayamsevak Sangh of trying to kill the Congress vice-president.
"The BJP-RSS want to get rid of Rahul Gandhi. They wan to kill him," Lalu said in a press conference in Patna.
However, Lalu refused to divulge more over his serious charge against the RSS-BJP by saying that he will say more in coming days.
Lalu further said the RSS-BJP have a single agenda to target opposition.
"As a part of this conspiracy, me and my family have been targeted by the CBI (Central Bureau of Investigation) , the ED (Enforcement Directorate) and the I-T (Income Tax) departments," the former Bihar chief minister said.
Lalu also attacked Bihar Chief Minister Nitish Kumar for walking out of the Grand Alliance government and said the Janta Dal-United leader has committed "political suicide" by joining hands with the BJP.
Tejaswi Yadav, who is now the Leader of Opposition in the assembly, will lead the RJD campaign 'Janadesh Apman Yatra' from Motihari in East Champaran along with his elder brother Tej Pratap Yadav across Bihar from Wednesday.
"Nitish Kumar was talking about RSS-free India till few months back. But now he is sitting in the lap of the RSS-BJP," Tejashwi said.
"Tejashwi will tell the people about betrayal of Nitish. He will also invite people to attend the RJD's August 27 rally in Patna against the BJP", Lalu said.