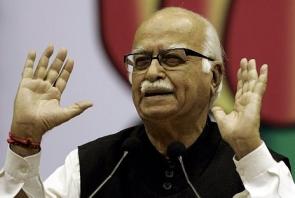 Over a month after the Rashtriya Swayamsevak Sangh intervened to end his revolt against Narendra Modi, Bharatiya Janata Party leader L K Advani on Wednesday said the Sangh founthead is the "ideological family" which "binds us together".
"I always thought that we may have our personal families but our ideological family will always be RSS. This is what binds us together," he said at the release of a book in the memory of Baleswar Agrawal, a veteran journalist who was also closely associated with the RSS.
The statement assumes significance as it comes over a month after the RSS intervened when Advani resigned from all party posts in protest against appointment of Modi as the Bharatiya Janata Party's election campaign committee chief.
Advani withdrew his resignation after RSS chief Mohan Bhagwat talked to him. He recalled his more that six-decade links with the RSS and said he joined Jansangh because he was among the RSS workers chosen to work for the party after its founder Shyama Prasad Mookerjee sought Sangh's support.
"The RSS was never interested in politics before Independence. After that, it served country through various means. It took interested in journalism in Indian languages, tribal welfare...," he said. He said Agrawal was a selfless worker who only cared for the cause. The book, brought out by Prabhat Publication, is titles 'Baleswar Agrawala: wyakti aur vichar (man and ideas)'.