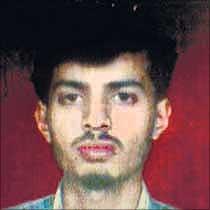 The Indian Mujahideen mastermind's account was created in 2012. Details will be sent to Pakistan to seek his extradition, reports Rediff.com's Vicky Nanjappa.
As long as Riyaz Bhatkal is alive, the Indian Mujahideen will survive.
The fact that he is ensconced in Pakistan makes the job of Indian intelligence agencies even harder as they look to permanently shut down the IM.
Bhatkal is the founder of the Indian Mujahideen, and alleged to be the mastermind behind the serial blasts that horrified the country in 2007-2008. He is also said to be a key operative for the Pakistan-based terror outfit, the Lashkar-e-Tayiba.
Now, more evidence of Riyaz Bhatkal being in Pakistan has emerged from the fact that his chat ID has been traced to that country.
The ID, menothing1, was created by Bhatkal to communicate with his operatives in India, using his Nimbuzz account.
Details procured from the service provider by the intelligence agencies show that this account was being accessed in Pakistan. The ID was created in 2012 using a Nokia phone, and its password was 15147, say sources.
The National Investigation Agency, which has detailed lengthy transcripts of the chats between IM operatives and Bhatkal, stumbled upon this ID which, on analysis, showed that it had emanated from Karachi, Pakistan.
However, most of the transcripts were not found on Bhatkal's Nimbuzz account, but on his Yahoo ID which he used more to communicate with his operatives, the Nimbuzz account being more of a backup, say sources.
The Yahoo ID, Patara_singh, is still under scrutiny and intelligence agencies are waiting for more details on it.
Sources said this only adds to the proof India already has against Bhatkal. The dossier that was already collected by India and sent to Pakistan seeking his extradition suggested that he was living in Defence Housing Colony, residential area Phase VI, Karachi, since November 2012.
Captured IM terrorists, who had been trained in Pakistan, told Indian intelligence agencies about this address.
Yasin Bhatkal, who also confirmed this address, expressed displeasure with Riyaz Bhatkal leading a comfortable life under security and with a good-looking wife to boot, while he had to do all the dirty work in India.
NIA sources say they await more details about Riyaz Bhatkal's other e-mail and chat IDs and will send the same to Pakistan to seek his extradition once again.
Riyaz Bhatkal's name has featured in at least three dossiers, and each time Pakistan's predictable response has been that it is not aware of such a person living in that country.