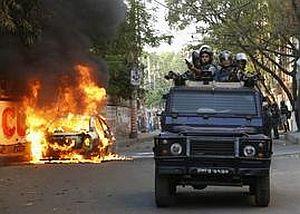 Bangladesh on Sunday deployed troops in its north as a fresh wave of violence claimed 19 lives, taking the death toll to over 75, in clashes that have rocked the nation since the conviction of Islamist leaders for 1971 war crimes.
Violence in the country escalated on Thursday when a death sentence was handed down to 73-year-old Delwar Hossain Sayedee, vice-president of the Jamaat-e-Islami (JI), by International Crimes Tribunal.
A two-day strike called by Jamaat starting on Sunday coincided with President Pranab Mukherjee's maiden visit to the country.


Another shutdown has been called by the fundamentalist outfit's alliance partner and main opposition Bangladesh Nationalist Party led by Khaleda Zia on the last day of the visit by Mukherjee on March 5.
Authorities called army troops in north-western Bogra as JI activists attacked a police station with homemade bombs and guns at the cantonment area.
"Two platoon troops were deployed on request from the local administration as the violence erupted at the cantonment area," an army spokesman told PTI.
The death toll in the clashes over the war crimes verdicts has risen to over 75 since the first conviction was made on January 21.
Nineteen people, including a police constable, were killed on Sunday and about 50 others were injured in the violence that rocked the first day of the strike called by Jamaat.
Activists of Jamaat-e-Islami and Islami Chhatra Shibir clashed with the police in the districts of Bogra, Joypurhat, Jhenaidah and Rajshahi districts throughout the day.
Of those killed, nine died in early morning clash in three upazilas of Bogra while six in two upazilas of Joypurhat during Jamaat-called 48-hour shutdown.
Two, including a young boy, were killed in a gunfight between Jamaat-Shibir men and police in Godagari upazila of Rajshahi while a police constable was killed in clash with Jamaat-Shibir in Jhenidah.

A Jamaat man died when Border Guard Bangladesh personnel opened fire on marauding Jamaat-Shibir activists after being attacked in Satkhira, the Daily Star reported.

A constable was killed and three were seriously injured as Jamaat-e-Islami and Islami Chhatra Shibir men clashed with police in Harinakunda upazila of Jhenidah.
Jamaat activists overnight torched a train and attacked several police installations in northwestern Bangladesh as they enforced a nationwide 48-hour stoppage to halt ongoing trial of their leaders.


Sayedee was the third JI politician to be convicted by the International Crimes Tribunal since the trial of war crimes suspects, mostly belonging to the Islamist group, began three years ago.
In the first verdict of the tribunal on January 21, former Jamaat leader Abul Kalam Azad was sentenced to death on similar charges.
Another Jamaat leader Abdul Quader Mollah was sentenced to life in February for atrocities during the war.


Main opposition Bangladesh Nationalist Party (BNP) extended its support to its crucial extreme r ight-wing ally, which was opposed to the countries 1971 independence siding with the then Pakistani junta, questioning the "neutrality" of the war crimes trial.
BNP, however, did not extend its moral support for the 48-hour JI shutdown unlike previous such occasions.
Reports said suspected extreme right-wing activists also set ablaze a Hindu temple and attacked two local leaders of ruling Awami League who were followers of Hindu faith at southwestern Bagerhat and ransacked another temple at suburban Gazipur district on Saturday