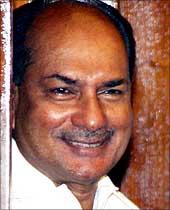 Against the backdrop of efforts to increase indigenisation to avoid defence scams, Defence Minister A K Antony on Tuesday asked the Indian Air Force to reduce its dependence on imports and work towards achieving self reliance in military weapon systems.
"We must minimise the over-reliance of our armed forces in general and the IAF, in particular, on foreign Original Equipment Manufacturers for procurement of major aircraft and equipment," he said at the bi-annual IAF Commanders' conference.
The minister's statement comes at a time when a former IAF chief is facing inquiry by the CBI in connection with the alleged AgustaWestland kickbacks scam in procurement of VVIP choppers.
Antony also asked the force to observe austerity measures as directed by the finance ministry and avoid ceremonial formalities. "Though availability of funds shall never be an issue, we need to strictly observe austerity measures circulated by the ministry of finance.
"Efforts must be made to cut down expenditure on non-core activities and avoidable ceremonial formalities," he said.
The minister said the Government remains committed to the modernisation of force, which is planning to induct a number of systems at a cost of over Rs 2 lakh crore in next five years.
"The procurement and acquisitions span the entire spectrum of the capabilities of the IAF including fighter aircraft, transport aircraft, helicopters and modernisation of air defence network," he said at the conference with the theme 'Enhancement of Op Infrastructure and Security'.
The minister asked the IAF to upgrade its legacy systems and modern systems to retain and further strengthen its capabilities. The minister commended the force on the successful conduct of the lAF's largest exercise 'Exercise - Live Wire'.