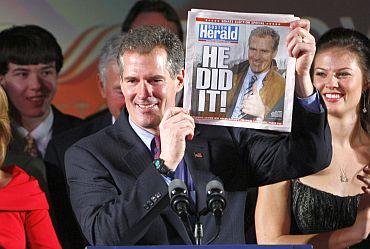 In a major electoral upset, the US Republicans have snatched away the Massachusetts Senate seat from the Democrats that was held by late senator Ted Kennedy for 47 years, and immediately termed the verdict a "referendum on bad policies" of the administration.
The Republican victory is a major setback to Democrats who would lose their filibuster majority of 60 in the 100-seat Senate, which was essential for President Barack Obama's ambitious health care reform bill to clear the Congress.

Republican State Senator Scott Brown defeated Massachusetts Attorney General Martha Coakley in the election for the Senate seat left vacant by Kennedy's death last year.
Soon after the results were clear, Obama spoke to both candidates in the hard-fought race, the White House said.

"The President congratulated Senator Brown... The President told Brown that he looks forward to working with him on the urgent economic challenges facing Massachusetts families and struggling families across our nation," White House Press Secretary Robert Gibbs said in a statement.
The Republicans immediately termed the verdict a defeat of Obama's policies, saying it was "a referendum on bad policies, not a bad candidate".
Terming it the biggest political upset in US Senate's history, Republican Senator Lindsey Graham said: "Today's vote was a resounding rejection of an out-of-control Democratic agenda by one of the most sympathetic electorates in the country".
"The Democrats' attempt to explain away the results with any other excuse is to ignore reality," Graham said.
"The Obama Administration and Democrats in Congress would be wise to listen to the American people, learn from this decisive defeat and change course," he said in a statement.

Obama also spoke to Coakley, thanking her for putting hard work into the campaign.
Meanwhile, congratulating Brown on his electoral victory, Senate Majority Leader Harry Reid, said: "While Senator-elect Brown's victory changes the political math in the Senate, we remain committed to strengthening our economy, creating good paying jobs and ensuring all Americans can access affordable health care".
He said it was now more important than before for Republicans to work with the administration to find a common ground to improves Americans' lives.
With the all-important health care bill pending in the US Congress, Graham said: "When it comes to health care reform, the message of the people of Massachusetts was very simple: stop and start over. But we must do more than kill this bill".

Republican Senator Bob Corker said Tuesday's result reflects Americans' dissatisfaction with many of the current policy debates in Washington, especially health care, and urged Obama and his Democratic colleagues to go back to the drawing board on the current health care bill.

"If the President wants to take a truly bipartisan approach on healthcare, he would go a long way by reforming Medicare to ensure it remains solvent instead of taking money from it to create a new entitlement as the current bill does," Corker said.

Republican Senator from Alaska, Lisa Murkowski, said the people of Massachusetts had sent a clear message that "they want a representative in Congress who will pull back the government takeover of health care, enact policies to generate job growth, fight for measures that will protect our national security and stop wasteful federal spending".

Image: Republican US Senator-elect Scott Brown holds up a copy of the Boston Herald announcing his victory over Democrat Martha Coakley in the US Senate race
Photograph: Brian Snyde/Reuters