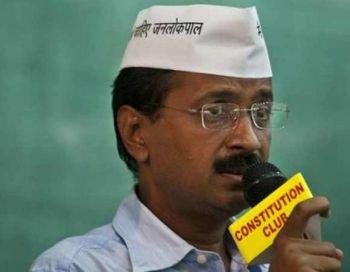 Delhi Chief Minister Arvind Kejriwal said on Thursday night his government plans to introduce Jan Lokpal bill in the assembly on Friday and renewed his threat of resigning if the proposed legislation was defeated by Congress and Bharatiya Janata Party.
He said the AAP government was ready to extend the session by a few days beyond February 16 to try and ensure passage of the bill but he will have no option but to quit if it was defeated.
When asked whether he may quit if the bill was not allowed to be tabled, Kejriwal said in that case government will try to introduce in the next few days and may even go for extending the session.
"We are ready to extend the session. We are not here to save the government. We will table the bill on Friday. If they allow then it is okay, otherwise I will resign," he told reporters.
"We are committed to Jan Lokpal Bill and Swaraj Bill and I am ready to sacrifice CM's chair 100 times to remove corruption from India," he said.
Kejriwal also said it may not be possible to hold a session of the assembly at a large stadium on Sunday as planned earlier.
He also accused Congress and BJP of joining hands in not allowing the assembly to transact business demanding resignation of Law Minister Somnath Bharti's alleged role in a raid episode in South Delhi.
"I don't think this had happened in the history of India in any legislative assembly where BJP and Congress came together. They have exposed themselves," said Kejriwal.
"The way they were charging at me, I thought they were coming to beat me up. They broke the mike in front of my seat and tore papers. They also broke speaker's two mikes. Similar things happened in the Parliament today. I was thinking is it democracy. This is anything but democracy," he said.
The first day of a special session of assembly witnessed unprecedented chaotic scenes as BJP and Congress MLAs joined hands in disrupting proceedings by throwing files, destroying mikes, flagging banners and trooping to the well demanding Bharti's resignation.
"We were ready for a discussion on the issue relating to Bharti. When we agreed to that they asked Bharti's resignation. Basically they were changing their goal posts," the chief minister said.
Kejriwal accused both the parties of being "hand-in-glove" in "fleecing" people of Delhi and said they did not allow the a single business transaction in the House.
"The reason for the two parties to join hands is Mukesh Ambani. He brought them together. Two days back an FIR was registered against Ambani and none of these two parties is able to save him. They want to destroy AAP," he said.
"Congress says it is supporting Aam Aadmi Party, but today it has become absolutely clear that it is not supporting us. Congress is supporting BJP," he said.
The chief minister alleged that BJP was benefited in so many ways when Congress was in power and there was "no opposition" in Delhi for last 15 years.
"When the BJP was not slogan-shouting, then the Congress took over. When the Congress stopped, the BJP took over. It was coordinated.
"We got to see many astonishing scenes. There has been a match fixing between Congress and BJP during the last 20 years since Delhi assembly started functioning. Politicians from both parties used to get contracts. There was no opposition. The nexus between them had not come to light," Kejriwal said.
He said BJP shouted slogans and Congress had posters on the same issue which raised doubts whether "they were working together in the night to make those posters".
"It was remarkable to see them working in tandem. I don't have any proof why this happened. Has the FIR against Ambani prompted both of them to aggressively attack us? This has exposed their behind-the-curtain agreement," he said.
On introduction of the Jan Lokpal bill, he said the Lt Governor has not conveyed to him that it cannot be introduced.
"I was told by the secretariat that before introducing bill copies should be distributed among members. It is being done. Tomorrow the bill will be introduced," he said.
Asked whether Delhi government can make any law repugnant to the Central law, he said the after clearance by the House it will have to be approved by the President.
"Powers of legislative assembly are sacrosanct. It is supreme. Home ministry order cannot overrule legislative assembly power. This is not a small thing. We have a federal structure. We have no tiers of government. Central government is not superior to state governments," he said.
The Union Law Ministry has held that the rules governing Delhi government's legislative business were constitutional where Centre's consent was required before its passage. Lt Governor Najeeb Jung on Monday had sought Law Ministry's view on the issue.