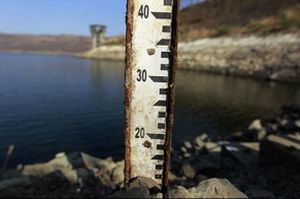 A recent analysis by the India Meteorological Department has confirmed that the cumulative rainfall in the country till June 18, 2014, has been 45 per cent below average.
The weak monsoon could make the government's job of taming food inflation -- particularly in pulses, oil seeds, coarse cereals and vegetables -- more difficult. The rate of food inflation, as measured by the consumer price index, rose to 9.66 per cent in April from 9.10 per cent in March.
Weather experts have confirmed that the El Nino effect will adversely impact this year's monsoon, casting a pall of gloom on expectations that the economy may look up this year.
Our cities are facing a crisis. In Mumbai, for instance, with lakes supplying water to the city having reached the lowest drawable limit, the civic body is considering experimenting with cloud seeding to increase the yield. The story cannot be different in other cities.
If this is the condition is our well-looked-after cities, one can only imagine the plight in the countryside whose voices seldom get heard in the corridors of power. Less said about the plight of our farmers, the better.
But is there a way that the impending crisis can be handled better, or even mitigated the next time rain gods turn a blind eye on India? How can citizens help in water conservation? What can you and I do that will help the nation in times of a water crisis?
We invite our readers to share their thoughts on our social networking platform, ZaraBol. Simply click on #How-to-Conserve-Water to post