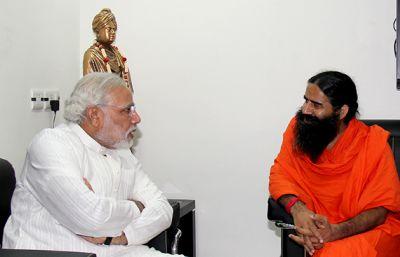 Yoga guru and anti-graft crusader Ramdev, who met Gujarat Chief Minister Narendra Modi in Gandhinagar on Wednesday evening, said that a strong and stable leadership is required for a corruption-free India.
Ramdev said the entire nation is looking forward to Modi, who has the leadership capabilities.
"There is an atmosphere of disappointment in the country. He (Modi) is the hope," he added.
The yoga guru also expressed hope that Bharatiya Janata Party veteran Lal Krishna Advani would very soon give his nod to Modi's name as the party's prime ministerial candidate.
Ramdev, who is known for his proximity to Modi, had earlier this month said the nation needed a superhero like the Gujarat chief minister. He said that he would not support the BJP if it did not Modi its prime ministerial candidate.
Advani on Wednesday appeared to be a stumbling block for the BJP in finalising Modi's name as its prime ministerial candidate. Hectic efforts were underway to convince the veteran leader to give up his opposition.
BJP president Rajnath Singh had a 30-minute meeting with Advani to persuade him on Modi's candidature but failed to get an assurance. Singh is now expected to meet senior BJP leader Murli Manohar Joshi to take his views on this issue.
Modi is considered by many to be the BJP's face for the next general elections.
The BJP has, however, not officially endorsed his candidature yet.
Image: Ramdev met Narendra Modi in Gandhinagar on Wednesday evening
Photograph Courtesy: Narendra Modi's website