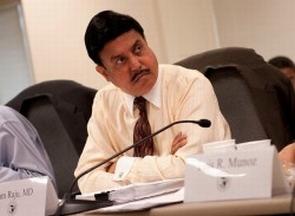 Ramanathan Raju, a medical doctor who brings more than 30 years of experience in public and not-for-profit hospital systems, was on Tuesday appointed the commissioner of Health and Hospitals Corporation by New York City Mayor Bill de Blasio.
The mayor also named Maria Torres-Springer as commissioner of the department of small business services, pledging to deepen each agency's connections to neighborhoods across the five boroughs. Both Raju and Torres-Springer are poised to aggressively implement progressive, community-based reforms.
"We sought out progressive, proven leaders who are committed to serving diverse communities across this city. And in Maria and Raju, we found them. Whether it's deepening our outreach to immigrant entrepreneurs long overlooked by City Hall, or bringing new community health care clinics to low-income neighborhoods, our approach will be the same," de Blasio said.
We will lift up every community. This will be one city, where everyone rises together,' the Mayor added.
Currently the CEO of the Chicago's Cook County Health and Hospital System, Raju is a respected physician who has led some of the nation's largest and most complex health care systems.
As chief of the New York City Health and Hospitals Corporation -- the nation's largest public hospital system -- he will work to raise standards of care at HHC hospitals and deepen the agency's approach to providing primary and preventative care at the neighborhood level.
Raju's appointment must be ratified by the HHC board.
"I am excited to return to the health and hospitals corporation,"said Raju. "Under my leadership, the HHC will continue its mission of ensuring New Yorkers have access to quality health care options -- from major hospitals to neighborhood clinics -- no matter where they live."
Raju began his medical career at LutheranMedicalCenter in Brooklyn, where he ascended to the positions of director of surgery, director of medical education, and senior vice president. He went on to serve as the chief operating officer and chief medical officer at Coney IslandHospital, and then as chief medical officer, corporate COO and executive vice president at the New York City Health and Hospitals Corporation.
Most recently, he has served as CEO of Cook County Health and Hospitals System, the third largest health system in the United States. He is credited with improving the CCHHS's quality of care, increasing revenues, and cutting costs by leveraging federal resources, restructuring the system's operation, and utilizing technology to increase efficiency and make the health care system more accessible to patients.
Originally from Chennai, Raju received his medical degree from the Madras Medical College and was a Fellow of the Royal College of Surgeons of England in the United Kingdom. He received his Masters in Business Administration from the University of Tennessee.
Image: Ramanathan Raju
Photo courtesy: cookcountygov.com