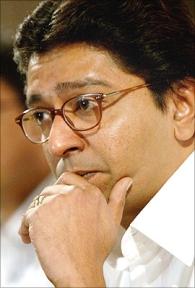 The Raj Thackeray-led Maharashtra Navnirman Sena's much-awaited entry into the Shiv Sena-Bharatiya Janata Party-Republican Party of India combine to forge a grand alliance in Maharashtra won't be a reality.
BJP president Rajnath Singh has told state leaders not to make any more attempts to lure Raj and instead concentrate on further strengthening the party's alliance with the Shiv Sena and the RPI to take on the ruling Congress-Nationalist Congress Party alliance in the ensuing Lok Sabha elections.
Singh, who two days ago discussed the party's preparations for the general elections, was quite candid in his observation that the BJP-Shiv Sena-RPI combine could pose a strong challenge to the Congress-NCP by encashing on anti-incumbency.
Singh wanted his party leaders not to make any attempt to rope in Raj, who has not responded positively. Raj is mulling fielding his nominees in a few constituencies, including three seats in Mumbai, Thane and Nashik, though he has not yet revealed his plans.
Singh and Sena chief Uddhav Thackeray have already approved the 22:26 seat sharing formula wherein the Sena will contest 26 seats and BJP 22. Both the parties have yet to take a call on the RPI's demand to allot at least four seats from their quotas.
During the 2009 elections, the Sena had won 11 seats while the BJP had won nine. For the BJP, Maharashtra, with 48 seats, is crucial to win most seats from its allies in the coming elections.
Singh's directive is a big setback to BJP's former president Nitin Gadkari and the party's deputy leader in the Lok Sabha, Gopinath Munde, who were at the fore to bring Raj on board.
Their objective in roping Raj into the BJP-Sena-RPI alliance was to avoid the division of votes, especially of the marathi manoos. Raj's decision to nominate his party candidates in the 2009 elections had helped Congress-NCP nominees to win while taking advantage of the division of votes.
A BJP leader, who did not want to be identified, said, "There has been a consensus among our national leaders that we should not waste our time to rope in Raj. Instead, the party should make all efforts to consolidate its position and improve the performance of the BJP-Sena-RPI combine."
He said the combine was well-equipped to expose the Congress-NCP government in the state on issues including the irrigation and fodder scams and alleged irregularities in the sale of sick sugar units.
The party plans to organise at least four rallies to be addressed by its prime ministerial candidate and Gujarat Chief Minister Narendra Modi in the state.