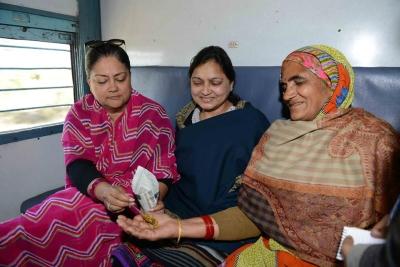 It seems that to shed her Royal background tag, Rajasthan Chief Minister Vasundhara Raje is going the 'commoner' way, just like Congress vice-president Rahul Gandhi. Shahnawaz Akhtar reports
Raje on Monday not only boarded the Golden Temple Mail from Sawai Madhopur to Bayana and travelled in a Non-AC general compartment, but exchanged notes with co-passengers and shared food with them.
Raje ate at a Gurjar's house in November last year and had also shared the mid-day meal with school children in Dholpur.
Raje had stopped at a tea stall and sipped tea with commoners on January 26.
The BJP-led state government is on a tour of the Bharatpur division wherein they are hearing public grievances under the Government-at-your-doorstep programme.
Interestingly, when Aam Aadmi Party leader Arvind Kejriwal after swearing in as Delhi chief minister had announced not to stay at the home allotted to him as the chief minister, Raje had followed suit.
"Rahul did all these with all the sensitivity, but Raje is doing only for publicity for the upcoming Lok Sabha elections," mused Archana Sharma, Congress spokesperson.
Image: Raje shares food with her co-passengers