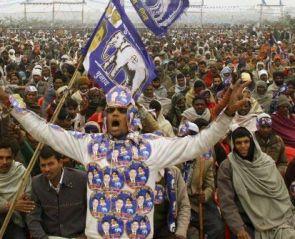 Newly-elected Bahujan Samaj Party Member of Legislative Assembly from Dholpur B L Kushwaha, wanted in a chit fund fraud case, was detained by police at the assembly here when he had gone to take oath.
Armed with an anticipatory bail from the Rajasthan high court, Kushwaha went to the assembly on Thursday to take oath where police was waiting to apprehend him.
The Madhya Pradesh police has been searching for the MLA since January 21 for his alleged involvement in a chit fund fraud case.
Kushwaha did not appear in the first session of the assembly to take oath fearing police action. With the 60-day period to take oath about to get over, the MLA approached the Rajasthan high court on Thursday for anticipatory bail which was granted.
"He was not arrested as he had interim bail", the police said, adding there was a warrant against Kushwaha in a chit fund fraud case. Earlier, a single bench of the Rajasthan high court granted him transit bail for a period of seven days to appear before the Madhya Pradesh high court.
In his application, Kushwaha sought bail to move the MP high court in the case. He also pleaded his liberty from arrest to enable him to take oath as member of 14th legislative assembly.
Kushwaha is likely to take oath in the speaker's chamber on Friday.