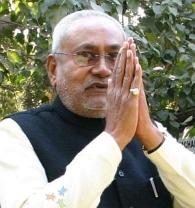 Blowing the bugle for the 2014 Parliamentary elections, Bihar Chief Minister Nitish Kumar on Saturday hit out at the Congress-led United Progressive Alliance government for dilly dallying on granting special category status to the state.
Kumar virtually launched a campaign for the Lok Sabha polls by starting the series of 'Sankalp' rally the Janata Dal - United has planned across the state to press for its demand of special category status and caution people against "divisive" forces led by the Bharatiya Janata Party.
The series of 12 'Sankalp' rallies -- planned by the JD-U across Bihar till February next year -- started from East Champaran as party leaders said Mahatama Gandhi had launched his satyagraha against the British government from there.
Keeping his distance from the Congress, the chief minister criticised the UPA government for not taking a decision on granting special category status for Bihar.
"There is every possibility to grant special category status to Bihar after the report of the Raghuram Rajan committee -- giving a fresh definition of backwardness -- but the government sitting in Delhi is not taking a decision," Kumar said at Changhara village near the Indo-Nepal border in East Champaran.
Kumar has said on numerous occasions that the demand for special category status would be the JD-U's main poll agenda in the 2014 Parliamentary elections.
"I and my party leaders have come to take a sankalp (pledge) that we will continue our struggle to achieve special category status for boosting the growth of Bihar," he said.
Noted filmmaker Prakash Jha shared the dais with Kumar. Jha had unsuccessfully contested last Lok Sabha elections from Bettiah on a Lok Janshakti Party ticket.
Kumar also took potshots at the Centre for not adequately compensating Bihar after carving out Jharkhand from it. He demanded a special package for Bihar to compensate the loss of mines, minerals and other natural resources needed for economic development.
Kumar, who is the driving force of the JD-U, took an apparent dig at his rival and BJP's prime ministerial candidate Narendra Modi.
"He (Narendra Modi) was accorded the status of a state guest in Mumbai where people from Bihar and eastern Uttar Pradesh have been attacked on numerous times," he said.
He took potshots at BJP leaders from Bihar for rushing to "coronate" their leader.
"Nowadays they feel ashamed to praise good things happening in their own state (Bihar) and rush to coronate the leader who has a track record of spreading communal hatred in society," he said.
Bihar JD-U President Bashitha Narayan Singh said the state has witnessed rapid growth under Nitish Kumar.
Senior ministers Vijay Chaudhary and Awdesh Kushwaha pointed to the growing clout of Bihar in the country due to Nitish's good work which has changed the image of the state.
Jha hailed the improvement in the law and order situation and also noted a number of pioneering initiative taken by Kumar for the empowerment of women.