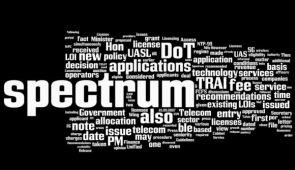 Indicted in the draft JPC report, former Telecom Minister A Raja on Monday hit back maintaining that "every major decision", including entry fee and non auction of spectrum, was taken after consulting Prime Minister Manmohan Singh and P Chidambaram and Pranab Mukherjee.
Read A Raja's statement implicating the PM and the FM
What were the words that Raja used the most in his statement?
The word cloud alongside gives the full break-up of A Raja's 100-page statement to JPC chief P C Chacko. The size of the word signifying the frequency with which it was used.
'Spectrum', 'TRAI', 'DOT', 'PM' were among the most used words in his speech.