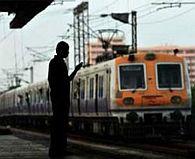 Amid allegations that Railway Board Member Mahesh Kumar had offered bribe to get the plum posting as Member (Electrical), Railway Ministry on Saturday said no "relevant" Board level job is vacant at present and denied any wrongdoing in his present appointment as Member (Staff).
Mahesh Kumar was suspended on Saturday night.
In a statement issued in New Delhi, the ministry said Mahesh Kumar was the senior-most eligible officer fulfilling the tenure linked norms.
It said his career performance record fully met the necessary performance criteria for the post.
"He was accordingly considered and appointed as Member Staff, Railway Board, on 1.5.2013. No officer senior to Mahesh Kumar fulfilling the norms governing appointment to the post of Member Staff has been superseded," it said.
Referring to reports of bribe being offered to Vijay Singla, the nephew of Railway Minister Pawan Kumar Bansal, to get the post of Member (Electrical), the statement said "no relevant Board level post is vacant at present".
The Railway Ministry statement said as per the tenure linked norms, an officer is eligible for appointment as a Member of the Railway Board if he fulfils the twin conditions of having worked as General Manager of an Open Line Railway, for a period of one year and has a balance tenure of two years of service on the date of occurrence of the vacancy.
"The officer should also be clear from vigilance angle. In case an officer who fulfils these twin norms is not available, the senior-most General Manager (Open Line) having a minimum of one year balance tenure of service from the date of occurrence of the vacancy with a clear vigilance record, is considered for appointment for the post of Member of the Railway Board," the statement explained.
Kumar was placed under suspension after the receipt of a report from CBI in the matter.

"Following the receipt of the official report from CBI, the Ministry of Railways places Mahesh Kumar, Member (Staff), under suspension," Additional Director General of Railways, Public Relations, Anil Saxena, told PTI.
Bansal's own continuance in the Union Cabinet hangs in balance with the Congress Core Group not reaching a conclusion on his future in the ministry. The Group will meet again on Sunday to take a call on the issue.
Bansal has, however, insisted he has no business links with Singla.