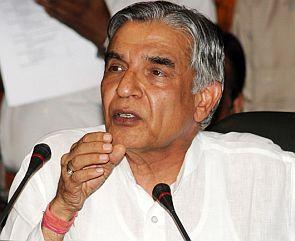 Amid demands for his resignation over his nephew's arrest on bribery charge, Railway Minister P K Bansal on Saturday presented his case before the top Congress leadership, including Prime Minister Manmohan Singh and party chief Sonia Gandhi.
Bansal was a special invitee to the meeting of the Congress Core Group, hours after party general secretary Janardhan Dwivedi dismissed the Opposition's demand for the Railway Minister's resignation.
The minister had earlier met the Prime Minister.
Besides Gandhi and Singh, senior leaders Ahmad Patel, A K Antony, Sushilkumar Shinde and P Chidambaram are members of the Congress Core Group.
Bansal's nephew V Singla was on Friday arrested by CBI, which also held a Member of the Railway Board in connection with alleged bribery of Rs 90 lakh for fixing a top-level position in the government.

Another accused, Mahesh Kumar who is a Member (Staff) Railway Board, was arrested in Mumbai by a CBI team soon after he had flown in from Delhi. CBI has registered a case under the Prevention of Corruption Act and the IPC against him.

Earlier in the day, Congress brushed aside Opposition demands for Bansal's resignation, saying it has become a "disease" of the Opposition to make such demands.
"For those who are demanding resignation, it has become a disease," Congress General Secretary and head of media department, Janardan Dwivedi told media persons.