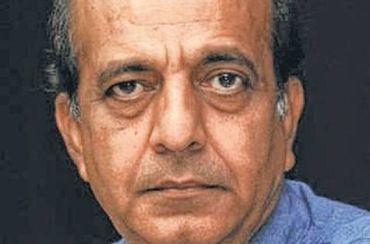 Union Railway Minister Dinesh Trivedi has said that there could be an early election in view of the mandate that Samjwadi Party got in Uttar Pradesh.
Cabinet minister Trivedi is a senior leader of Mamata Banerjee-led Trinamool Congress.
While talking to rediff.com, he claimed that he is speaking as a 'student of politics.'
He elaborated, "The results in Uttar Pradesh are telling. It means that SP will not be dependent on Congress. Few months back, we had expected that the results would require Congress to lend support from outside to SP to form government in Lucknow. It is not the case, now. SP has got tremendous victory and Congress has lost the race. Now, Congress will have to ask for support of the SP."
Trivedi regretted that it will be very difficult for the United Progressive Alliance to pass any bill in current Lok Sabha given the fractured mandate.
The results of Uttar Pradesh have shaken the Congress and have deeply affected UPA II. Trinamool has been playing tough with UPA in giving support on crucial issues of national interest.
It was widely believed that SP's 21 MPs will come to the help of UPA after the Uttar Pradesh election and help cut Trainamool to size. But the disgraceful defeat of the Congress has boosted Trinamool's game plan not to give an inch to Congress on the political turf of West Bengal.
Practically speaking, although Chief Minister Mamata Bannerji's party is an ally of UPA, but she gives only 'issue-based support' to the government.
Even though the Congress and Trinamool are at loggerheads on every other issue, their coalition is intact somehow.
In the meanwhile, Trivedi is getting ready to present Railway Budget next week, for which preparations are on full swing.
The pilot-turned-businessman-turned-politician will have the budget on his iPad, but he is currently confused in deciding whether to read it straight from the swanky gadget or through the folder prepared by his office.
He said, "I can't share any details of the budget, but can say that the railway ministry is in Intensive Care Unit. I have to give medication to it and transfer it to the normal ward, at least!"
He added that has taken seriously the recommendations made by the Kakodkar committee on railway safety and the Sam Pitroda committee on its modernisation. 
When asked if party boss Mamata Bannerjee is conducting the ministry's affairs through remote control, Trivedi quipped, "She has never interfered since the day she left the ministry. People defame her for no reason. It is grossly unfair to her."
Image: Union Railway Minister Dinesh Trivedi