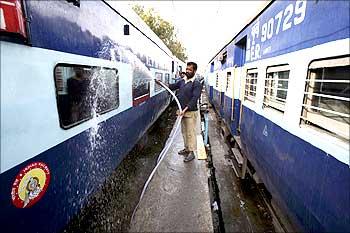 The committee, headed by Anil Kakodkar, former chairman, Atomic Energy Commission and Secretary, Department of Atomic Energy, in its report said Rs 100,000 crore (Rs 1,000 billion) would be required over the next five years to revamp the safety measures of the Railways.

The Rs 100,000 crore would include Rs 20,000 crore (Rs 200 billion) for advanced signalling systems on 19,000 km trunk routes, Rs 50,000 crore (Rs 500 billion) for elimination of all level crossings, Rs 10,000 crore (Rs 100 billion) for manufacturing coaches with better designs and Rs 20,000 crore for maintenance of safety-related infrastructure and other items.

To fund the Rs 20,000 crore annually, the panel says Rs 5,000 crore (Rs 50 billion) could be mopped up as safety cess from passengers and has asked for similar grant amount from the Centre.

It also called for deferment of dividend of Rs 5,000 crore as social burden, raising Rs 4,000 crore (Rs 40 billion) from the Rail Land Development Authority and not paying road tax of Rs 1,000 crore (Rs 10 billion).

Minister
of railways, Dinesh Trivedi, however, did not say anything on raising fare.
"We have to consider the suggestions by the committee to raise funds. We will weigh our options and make sure that common man is not burdened," he said.
The panel has also recommended formation of Railway Safety Authority as an independent body, directly under the government with chairman and experts from outside; a railway research and development council, railway research centres, advanced railway research institute and upgraded RDSO.
The committee, formed on September 16, also had E Sreedharan, the former managing director of Delhi Metro Rail Corporation, as an advisor.