The Congress vice president is trying to discourage senior leaders from pushing names of poll aspirants for considerations and not their ability to win, reports Renu Mittal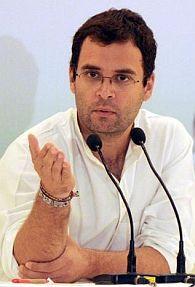 Congress Vice President Rahul Gandhi has decided to fix responsibility on all senior leaders who recommend tickets for aspirants seeking to contest in the assembly elections.
On the directions of Rahul Gandhi, AICC general secretaries in charge of states going to the polls have written to party MPs of the Lok Sabha, the Rajya Sabha, Union ministers and other senior leaders asking them to make their recommendations on their letter pads with full sense of responsibility.
If the recommended candidate wins, well and good, but if he loses, the concerned leader would be asked for an explanation. In certain cases he could be penalised to the extent that he may lose his own ticket during the elections.
Sources said that the party may not adopt such drastic measures but the leadership would like to eliminate names pushed by senior leaders for considerations and not their ability to win.
Such a letter has been sent by AICC General Secretary incharge of Rajasthan Gurudas Kamat to MPs, ministers and other senior leaders. Sources disclosed that it has made many MPs wary since any defeat would be a black mark beside their name. So far there was no system of accountability in the party. The same had been the case with general secretaries who had lost states but had continued without any sense of accountability.
A senior leader said the new system would put a break on frivolous or motivated recommendations. It would help the party in weeding out the non serious aspirants, the source said.
The Congress party is also addressing the question of sitting MLAs. How many of them would face the axe to give a fresh lease of life to the party during election time is being debated.
In Rajasthan, the party conducted an internal assessment along with an agency on sitting MLAs to survey whether they were in a position to win. The results of this are being tabulated and would be matched with the recommendations that have come from the block, district and PCC level on which candidates should be selected.
Sources say that the Congress party has had a survey commissioned by a renowned American agency and according to the results the party is losing badly in Rajasthan. So much so, the survey has given the Congress around 50 seats out of a total of 200 seats. It has predicted a defeat for the party, despite the hype created by the Gehlot government on how it is on the verge of winning the election.
Sources say that Rahul Gandhi is keen to offset some of the losses by bringing in winnable candidates and giving them tickets in the poll-bound states.