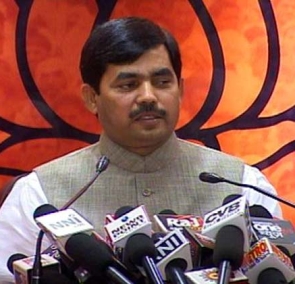 Senior Bharatiya Janata Party leader leader Shahnawaz Hussain on Friday demanded an apology from Congress vice president Rahul Gandhi for his statement that he was briefed by an "intelligence official" on the Pakistan's Inter-Services Intelligence having 'contacted' 10-15 youth whose kin were killed in the Muzaffarnagar riots, for potential recruitment.
"It is a shameful act of Rahul, he should apologise to the people; particularly the Muslims for making such an irresponsible statement," Shahnawaz Hussain, who is also a BJP spokesperson told newspersons.
At an election rally in Indore on Thursday, Rahul had made the sensational claim that singed by the riots and killings in Muzaffarnagar district of the state, many Muslim youths were in touch with the ISI. The riots and communal violence in the district in September had left 62 dead and 43,000 homeless.
Hussain, the Muslim face of saffron BJP, also questioned Rahul authority to be briefed by IB officials. "He is not holding any public post, how could IB officials had briefed him?" he asked.
Hussain also targeted Prime Minister Manmohan Singh by saying that he should first resign as PM and then go to the Central Bureau of Investigation for questioning him.
He also claimed that the proposed rally of BJP prime ministerial candidate Narendra Modi in Patna on October 27 would be the largest rally ever not only in Bihar but in the country.