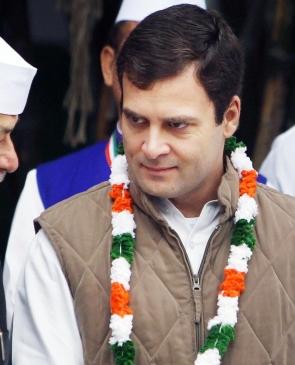 Amid clamour among Congress workers that he should be named the prime ministerial candidate, Rahul Gandhi on Thursday said he would definitely consider it if the party comes to power and the elected representatives select him for the post.
"In the Congress, elected MPs select the PM. After elections if our party comes to power and the MPs select me then I will definitely consider it," Rahul told reporters on the second and last day of his two-day tour to his parliamentary constituency Amethi.
He was asked whether he would be ready to bear the responsibility of the top post.
Rahul said even Manmohan Singh was selected by the elected representatives, as in the Congress there is no system of selecting the PM candidate before polls.
"To select a PM is the right of the MPs and it should stay with them. Selecting a PM nominee before polls is not a democratic system, but part of personality cult," he said.
At the Congress working committee meeting held recently, party chief Sonia Gandhi rejected demands by leaders from various states to anoint Rahul the PM candidate before elections, saying there has been no such tradition in the party.
Rahul on Friday told reporters in Amethi that "democracy is not strong enough" in Uttar Pradesh and there is too much of personality cult.
"There is too much of personality cult in Uttar Pradesh. In the Bahujan Samaj Party, Mayawati distributes the ticket and in the SP only one family distributes it. In UP there are only MLAs and they do not have the freedom to work properly," Rahul alleged.
When told that even the Congress is being run by Gandhi family, he said the party was not run by 10 Janpath and has maximum democracy.
"Democracy is not strong enough in UP. Without associating people, neither the democracy will get strong nor development will take place in the state. I am confident that I will bring the Congress government in the state," he added.

Image: Congress Vice President Rahul Gandhi at the AICC meet in New Delhi

Photograph: Pressbrief