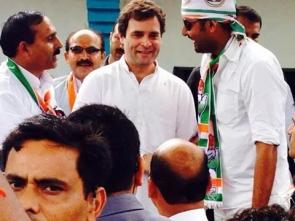 In a direct attack on Prime Minister Narendra Modi, Congress vice-president Rahul Gandhi on Thursday said he was "playing drums" in Japan while people suffered from power crisis and soaring vegetable prices.
The Congress vice-president said Modi came to power by making big promises and but his government is yet to even begin working on them despite completing 100 days in office.
"They had made big promises but where is the result? They might have forgotten so let me remind them. They said they will change the country, bring down prices, reduce corruption. 100 days are over.
"At least begin working now. People say they have not even started working. The PM is playing drums in Japan while there is no electricity here amd prices are rising," he told mediapersons.
During his recent visit to Japan, Modi had tried his hand at playing drum while taking part in a function.
On a two-day visit to his Lok Sabha constituency Amethi, Rahul admitted to differences in opinion in Congress over issues and said there has always been "this type of tension" in the party. The party will deal with the issue, he said.
A group of young Congress leaders, including 15 All India Congress Committee secretaries, recently decided to write to senior leaders against what they claimed was attempt to damage the party's image by making controversial statements outside party fora.
It is being seen as a rallying of support for Gandhi within the party after comments of several party leaders were seen as a disapproval of his leadership style. "The Congress party is an old organisation... There are multiple voices and all those voices will bring solution to the party," he said.
Rahul earlier faced some grilling by his electorate over power crisis in the area and said he has written a letter to the Chief Minister Akhilesh Yadav in this regard. He arrived on Thursday morning and visited the villages which had fetched him large numbers of votes in the recent Lok Sabha elections.
To a question on the youth in the Congress party asserting themselves, Rahul said, "It is an old party, everyone has opinion of his own."
"There are multiple voices in the party and all of them bring solution to problems," he said. Rahul visited villages polling maximum votes for him in the recent Lok Sabha elections including Bhikhipur and Barkhudas Ka Purva among others and interacted with people.
He was informed about problems relating to power and water crisis in the constituency besides demand for a water tank in Bhikhipur which, he said, would be constructed through his member of Parliament fund.
He also offered prayers at Baba Saheb Mazar.
Pic: Rahul Gandhi interacts with party workers in Amethi. Photograph: Sandeep Pal