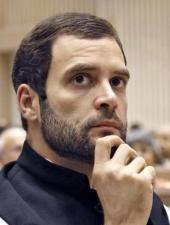 Congress Vice President Rahul Gandhi on Thursday delivered his much-awaited speech at the annual general meeting of the Confederation of Indian Industry.
During his speech, Gandhi addressed a number of issues including the performance of the Congress-led United Progressive Alliance, India's economic growth, speculations about being the contender to the prime minister's post and even his marriage plans.
READ what Gandhi had to say about India's growth story and whether he was a candidate for the PM's post.
What did you, our dear readers, think of Gandhi's speech? Do you think the Gandhi scion made for an interesting speaker? Or do you believe the Congress leader had nothing new to say and the speech was a boring affair?
Let us know your opinion by VOTING for or against Rahul Gandhi's speech.