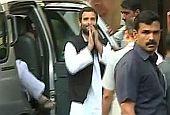 Congress Vice President Rahul is meeting with workers and leaders from the party's faction-ridden city unit in Mumbai on Friday.
This is Rahul's first visit to the city after taking over as the Vice President of the party.
He was accompanied by Maharashtra Chief Minister Prithviraj Chavan, state Congress chief Manikrao Thakre and AICC in-charge Mohan Prakash for the meeting at the party's state headquarters Tilak Bhawan in central Mumbai.
On his arrival at Tilak Bhavan, Rahul paid homage to former Chief Minister Vasantdada Patil on the occasion of his death anniversary.
He then began his district-wise meetings with district chiefs, corporators, office bearers, besides MLAs and MPs from the city.
Traffic movement was affected due to restrictions put in place for security reasons by the Mumbai Police and Special Protection Group around Tilak Bhavan in Dadar, which is usually crowded during the peak morning hours.
Some in the Maharashtra Pradesh Congress Committee questioned the timing of Rahul's visit and restricting his meetings only to that with the Mumbai unit.
"The state is reeling under acute drought. Instead of focusing on drought-hit areas, especially Marathwada, and on organisational matters in that region, Manikrao (state party president) and Mohan Prakash (AICC incharge) have chosen to bring Rahul only to Mumbai where internal bickering cost the party heavily in the last year's BMC elections," a leader said on condition of anonymity.
"What organisational matters will Rahul discuss with Mumbai unit when the issue of appointing a new president is not on his agenda?" another wondered.


All MPs, MLAs, corporators, office-bearers and chiefs from the six district units of Mumbai are attending the meeting with the Congress leader.
Mumbai Congress unit has been without a leader for the last one year, after Kripashankar Singh, facing allegations of corruption, resigned following the party's defeat in the civic elections last year.
The party has not been able to find a replacement for Singh since then.
Party sources attribute the delay in appointment of a city unit president to infighting and decision-making regarding organisational matters in each of the six district units resting with the high profile MPs from Mumbai.