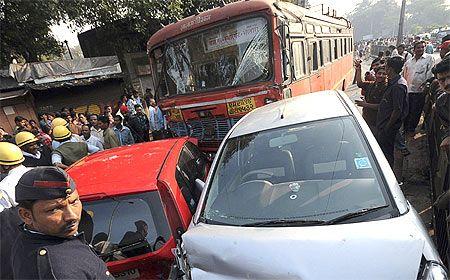 A Pune court on Wednesday again awarded death sentence to Santosh Mane, who had gone on a rampage while driving a State Transport bus, leaving nine people dead and 37 injured.
Mane had been awarded death sentence by Additional Sessions Judge V K Shewale in April also, but Bombay high court had referred the case back as his lawyers had pleaded that he was not given proper hearing.
The court again awarded him death sentence. "Mane got full opportunity to defend himself (during re-hearing)," Subhash Kalbhor, additional public prosecutor, said, adding that "all the reports of medical examinations were normal."
During the re-hearing, Mane was examined by doctors from Government Mental Hospital on his request, and they said he was not suffering from insanity (which was his defence).
The sentence would now again be referred to Bombay high court for confirmation.
On the morning of January 25, 2012, Mane hijacked a parked, empty ST bus from Swargate depot in the heart of Pune and went on a rampage, mowing down whoever came in the away. Police and some citizens chased him and managed to catch up with him after 45 minutes.
Image: Onlookers and rescue workers gather around the bus and other vehicles after the Pune tragedy
Photographs: Reuters