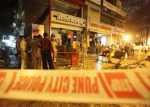 One more suspected Indian Mujahideen terrorist allegedly involved in the Pune serial blasts in August has been arrested in Jaipur by the Delhi police, taking the total number of arrests to four.
Langde Irfan, 30, who is an expert in computers and the brother-in-law of one of the Pune blast accused, was apprehended from Jaipur's Sindhi bus stand on October 10 by a team of the Delhi Police's special cell, S N Srivastva, special commissioner of police, told the media.
This is the fourth arrest in connection with the August 1 Pune serial blasts. The police is on the look out for one Raju Bhai, who allegedly arranged hideouts for three of the arrested persons, and another unidentified person.
Irfan's arrest came following interrogation of three arrested suspected IM terrorists, he said, adding two pistols of .32 calibre, magazine, cartridges, wires and wire cutter have been recovered from his Pune residence.
The Delhi police had arrested four suspected IM operatives -- Asad Khan, 33, who is a recruiter, motivator and ideologue of the IM, and Imran Khan, 31, were arrested on September 26 from their hideout in Pul Prehladpur in south Delhi and Syed Firoze, 38, from Nizamuddin Railway station five days later.
During interrogation Irfan, a resident of Ahmednagar in Maharastra, Srivastava, confessed to his involvement in the Pune serial blast on August 1. He, along with Sayed Firoze, allegedly went to Pune in July 2012 following instructions of top IM operative Riyaz Bhatkal to arrange a rented accommodation.
"They found a rented accommodation in Kasarwadi without submitting any document or identity proof. They also received two persons there, who asked him to bring various items for making an improvised explosive device, which they purchased from Pune and were also involved in making of the IEDs," the official said.

The Delhi police had, on October 11, claimed to have solved the Pune serial blasts in August and averted terror strikes in Delhi and Bihar's Bodhgaya during upcoming festival season. 

Srivastva claimed Bhatkal had send hawala money to Irfan for funding terrorist activity. He also allegedly bought two pistols in Bhatkal's direction and gave those to Imran.
Giving details of Irfan's relationship with the arrested three, he said Irfan came in contact with his neighbour Imran in Ahmednagar.
Srivastva said Irfan came in touch with Asad Khan in 2007, when his sister Gauhar got married to him. Khan used to visit Aurangabad and Irfan introduced Imran to Khan. He came in contact with one Sameer in mid 2010, who used to come to Irfan's shop for purchase of clothes, as Feroze's son Hamza was admitted to Jamia Mohammaddia Madarsa in Bara Babli area and during one such meetings he met Sameer, who introduced him to Irfan.
Irfan used to work in a company as an Autocad engineer from January 2008 to May-June 2009. In 2011, he along with Asad Khan and Imran Khan started real estate business and had an office in Aurangabad.
"In January 2007, Asad Khan went to Mecca and so did Imran in 2008. They came in contact with Fayaz Qagzi, who provided his email-ids to them. In January 2009, Irfan too went to Mecca. In 2010, Irfan again went to Mecca and established contact with Fayaz Qagzi, who showed interest in him," Srivastva said.