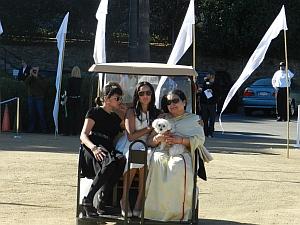 The ashes of noted sitar player Pandit Ravi Shankar, the who passed away last week, will be taken to Varanasi for the final rites, Lakshmi Shankar, the musician's sister-in-law, told rediff.com at a memorial service held at the Self Realisation Fellowship Ashram Center in Encinitas, Southern California.
Shankar passed away on December 11 near his home in Encinitas, California. He was 92.
His health had been fragile for several years. He had undergone a surgery to replace a heart valve at the Scripps Mercy Hospital, where he passed away.
Among those who attended the service were his daughters Anoushka Shankar and Norah Jones, his wife Sukanya, conductor Zubin Mehta and Olivia, the widow of Beatles musician George Harrison.
More than 700 people turned up for the service, which was open to all, at the golden-domed ashram that overlooks the Pacific Ocean.
Shankar had close connections with the ashram, established in 1937 by Paramahansa Yogananda, touted as the person who brought Indian meditation to the West. This is also where the religious leader wrote Autobiography of a Yogi.
The ashram is popular among local surfers and celebrities, causing the old name of the area, Noonan's Point, to be changed to Swami's Beach, a name mentioned in the Beach Boys song, Surfin' USA.
The prayer service was offered by Dr M N Nandakumara, executive director of the Bharatiya Vidya Bhavan, London, followed by a speech by Brother Sevananda of the Self Realisation Fellowship. Local students under Dr C M Venkatachalam sang songs thereafter.
"It's a great honor for me and my children," Venkatachalam told rediff.com. "For the past couple of years, I have had the unique opportunity of interacting with Guruji Ravi Shankar. With his blessings and encouragement, some of his compositions were taught to my students. Knowing Guruji up close and learning from him have been the highest point in my life."
According to a press note released on December 14, Shankar's family members are discussing the possibility of holding public concerts in New York and London to celebrate the maestro's music.
Pic: (from left) Daughters Norah Jones, and Anushka Shankar and wife Sukanya
Photograph: Ritu Jha