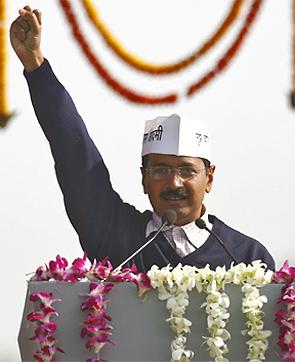 The Congress, the Bharatiya Janata Party and the Left Front on Saturday congratulated Delhi Chief Minister Arvind Kejriwal and expressed hope that the new government will "live up to the expectations" of the people.
Congress general secretary Shakeel Ahmed said the party will "continue its support" to the AAP if the new regime fulfils the promises made earlier.
"He has become the chief minister. I hope he will fulfill the promises based on which people voted for him and his party. I congratulate him. I wish he is able to fulfill the expectations of the people," he said.
BJP President Rajnath Singh too congratulated Delhi's seventh chief minister today.
"I heartily congratulate Arvind Kejriwal on taking the oath of office and secrecy. And I hope the AAP and the Congress together will give a stable government. And (I hope) their government will fully live up to the expectations of the people. I wish the government fulfils the promises made," Singh said.
The BJP chief, however, added that he would not give a "reaction" on the occasion as it is "not appropriate".
"Because in a healthy democracy, all must maintain a certain code of conduct," he said.
Leading a fledgling party that stunned both political heavyweights in the Delhi polls, Kejriwal took charge of the government, hailing it as a government of "not the AAP but of the 1.5 crore people of Delhi".
The swearing-in ceremony took place at the jam-packed Ramlila Maidan, the venue that had propelled Kejriwal into the limelight as an anti-corruption champion, before he took a plunge into mainstream politics.
Dressed in his usual 'aam aadmi' avatar, Kejriwal, in his 20-minute speech, promised to the people a "corruption-free government" and a new style of governance without the "arrogance of power".
The Communist Party of India extended support to the AAP government in Delhi in fighting corruption, saying the stands of both parties were "almost similar" on most major issues.
In a letter to Chief Minister Arvind Kejriwal, CPI Delhi unit Secretary Dhirendra Sharma said he welcomed "the positive change" brought in by the electorate of Delhi after "discarding the Congress and the BJP".