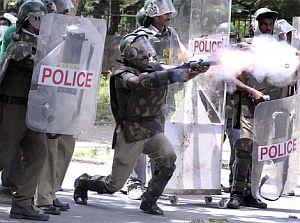 Pro-Telangana students on Monday clashed with police which used teargas shell to quell the protestors at Osmania University campus here even as the bandh called by different groups favouring separate statehood had little impact in Hyderabad and Telangana districts.
A group of activists under the banner of Telangana students and OU-JAC held protests in front of the OU Police Station located on the varsity campus and later pelted stones on the police station and cops, a senior police officer told PTI.
Police retaliated by firing teargas shells to disperse the protesting students, he said.
Telangana student unions including Osmania University Students Joint Action Committee gave a bandh call on Monday, protesting the alleged high-handedness of police during the 'Telangana March' in support of the separate statehood demand on Sunday.
The bandh evoked a very little response in Hyderabad as business
establishments and offices functioned normally, though some schools and colleges run by private educational institutions remained closed. However, no holiday was declared for state-run educational institutions, officials said.
RTC buses were plying as usual while private vehicles also moved normally