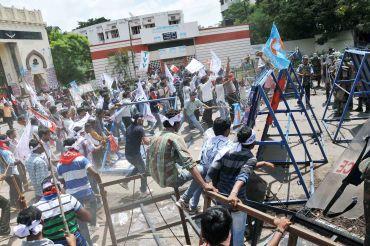 The situation in Hyderabad is tense ahead of the Telangana march even as six leaders from the ruling Congress have been taken into preventive custody.
The situation at the Osmania University, the epicentre of the pro-Telangana protests, is extremely tense and clashes have been reported between the students and the security personnel.


Despite the government banning all forms of processions, many organisations have defied the order and carried out rallies on Sunday.
At the Osmania University, a motor cycle rally was taken out.
Even the Telangana employees union carried out a procession which was objected to by the police.
There were arguments, skirmishes and clashes between the police and protestors in different parts of Hyderabad.


The police say that permission has been granted to take out a march only at the Necklace Road. However, the protestors argue that such orders cannot be issued.


A police officer informs that they need to tread very carefully as the situation could go out of control. The bigger worry is the United Nations biodiversity meet on Monday at Hyderabad where delegates 193 countries will take part.
The protestors say if they are allowed to stage a protest and take out processions today without any interference they would assure that the bio diversity meet passes off peacefully.
"However, if the Andhra Pradesh government stops us then it will be curtains for the meet tomorrow," a protestors adds.


Meanwhile the Congress MLAs are sitting in dharna outside the Chief Minister Kiran Kumar Reddy's residence while the rest of the leaders are gearing up for the march.


Image: Hundreds of Osmania University students clash with the police ahead of the Telangana march on Sunday
Photograph: SnapsIndia