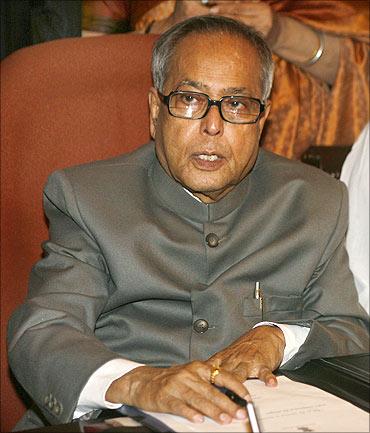 Voicing concern over disruptions in Parliament, President Pranab Mukherjee on Monday asked Parliamentarians to do "some introspection" over functioning of the House.
He stressed that Parliament functions through debate and it was important that all stakeholders follow sound parliamentary conventions and rules.
"Parliament functions through debate, dissension and finally decision and not through disruption. In order to strengthen Parliamentary functioning and other democratic
institutions, it is important that all stakeholders -- government, political parties, their leaders and Parliamentarians do some introspection and follow sound parliamentary conventions and rules," Mukherjee said.
He was speaking on the occasion of unveiling of photographs of Presidents of Central Legislative Assembly and portraits of former speakers of Lok Sabha in Parliament's Central Hall.
Describing Parliament as "Gangotri" of the nation's democracy, Mukherjee said it represents the will and aspirations of one billion plus people and is the link between the people and the government.
"If Gangotri gets polluted, neither Ganga nor any of its tributaries can stay unpolluted. It is incumbent upon all Parliamentarians that they maintain the highest standards of democracy and parliamentary functioning," the President said at the function attended by Prime Minister Manmohan Singh, Lok Sabha Speaker Meira Kumar, Leader of Opposition Sushma Swaraj, senior ministers and former speakers.
Maintaining that Parliament, like other organs of the government, is not sovereign and owes its origin and authority to the Constitution, he said it derives its functional responsibility from, and discharges its responsibilities within the framework of the Constitution.