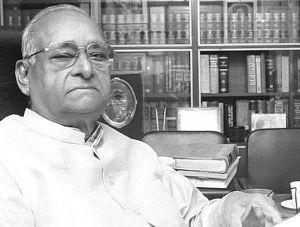 The Bharatiya Janata Party and Congress were at loggerheads on Wednesday over the government's move to appoint a jurist to Lokpal selection panel with the main opposition approaching President Pranab Mukherjee to press its demand for a consensus on such an issue.
The BJP said the government is trying to negate the spirit of the parliamentary select committees recommendations while Congress said the opposition party was making "lameduck excuses" because of its "hidden agenda" of blocking the constitution of Lokpal.
Leader of Opposition Sushma Swaraj, who is opposing appointment of Supreme Court lawyer P P Rao in the panel, met Mukherjee and lodged protest at the manner in which the government pushed his nomination.
Swaraj, who is a member of the Lokpal selection committee, feels that Rao is a "Congress-loyalist" and should not be in the panel to ensure its neutrality of the body that will choose members of the anti-graft ombudsman.
She expressed her opposition first at the meeting of the selection committee convened by Prime Minister Manmohan Singh earlier this week.
Blaming the prime minister for the row, BJP accused him of having "failed" in his duty on the Lokpal appointment issue and said it goes against the spirit of parliamentary approval.
"The first and foremost blame lies with the prime minister. The Prime Minister as Prime Minister and leader of a team in the collegium must make an effort to bring about a consensus. He failed in the case of Central Vigilance Commissoner. I am sorry to say he has failed all the more in the case of a Lokpal," BJP leader Ravishankar Prasad told reporters in New Delhi.
Image: Senior Supreme Court advocate P P Rao