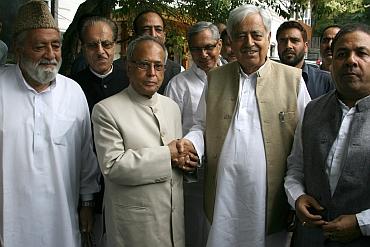 People's Democratic Party patriarch Mufti Mohammad Sayeed on Sunday said that United Progressive Alliance nominee Pranab Mukherjee is a capable and competent man who will prove to be one of the country's best Presidents.
"We had many many great Presidents, he will be one of the best we will have," Sayeed told reporters at his residence after meeting Mukherjee.
"He has been my party colleague. When his nomination was announced we were very happy. Personally, I was very happy. He is a person with whom I have long association, he is a very capable and competent person," the PDP patron said.
The former Jammu and Kashmir chief minister said he was hopeful that Mukherjee, with whom he had campaigned for Indira Gandhi, will not turn out to be 'his master's voice' when he becomes the President.
"When his nomination was announced, (PDP president) Mehbooba Mufti extended the support. He will be one of the best persons for the institution of Presidency," Sayeed said.
Mukherjee is in the Valley meeting legislators and leaders of various political parties to garner support for his Presidential bid.
Picture: Pranab Mukherjee with former Jammu and Kashmir Chief Minister Mufti Mohammad Sayeed
Photo: Umar Ganie