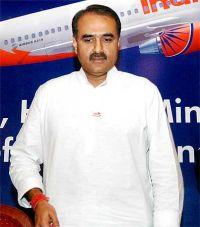 Union Minister for Civil Aviation Praful Patel on Tuesday got the experience very few Patels have been able to escape in the United States of America.


The minister was surprised when he was detained at the O'Hare airport in Chicago, not only because his name is Praful Patel, but there is someone by the same name and same birthday as well.
Patel, who was in Chicago on a private visit, flew to Montreal for attending an official engagement
Praful Patel was born on February 17, 1957; and in US immigration's watch list, there was some other Praful Patel also born on February 17, 1957

C B Patel, former president of Patidar (Patel) association in London and publisher of Asian Voice and Gujarat Samachar said, "There are more than 2.5 lakh Hindu and Muslim Patels in UK while more than 3.5 lakh Patels live in America."

After Patel was detained, the Indian consulate intervened, and he was consequently released.
The minister was asked why he was visiting the US and whether he had stayed in the country earlier.
While talking to rediff.com through SMS, Patel underplayed his detention, saying, " I am in Montreal. Nothing serious has happened."

He requested the media not to sensationalise the issue, as it has happened when Bollywood star Shahrukh Khan was detained in US last year.

Patel said, "There is a person with a similar name and even birth-date, that's why they just double-checked."

In Lok Sabha, where Praful is an elected member, there are ten other members sharing his surname.
Image: Union minister Praful Patel