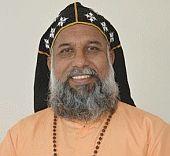 Head of Kerala-based Syro Malankara Catholic Church, Major Archbishop Baselios Mar Cleemis, was on Saturday installed as Cardinal by Pope Benedict XVI at Vatican.
After prayers and ceremonies, the Pope presented beret (Cardinal's cap) and the ring to Cleemis,elevating him to the highest strata of the Catholic hierarchy vested with the voting right to elect the Pontiff, when a situation arises.
Special prayers were simultaneously held at the St Mary's cathedral at Thiruvanathapuram, the headquarters of Syro Malankara Church.
With Cleemis's installation, the number of Indian Cardinals has gone upto seven, church sources said.

Five other prelates from different countries were also made Cardinals on Saturday.
The Indian delegation that left for Vatican to participate in the ceremony includes Union Minister K C Venugopal and Deputy Chairman of Rajya Sabha P J Kurien.
An all-religion delegation, comprising spiritual personalities of various faiths and bishops from different church denominations and City Mayor K Chandrika, were also present at Vatican.
Pope Benedict had last month made the declaration of raising 53-year-old Cleemis as Cardinal, the first prelate to be raised to the high-power body of Catholic hierarchy from the Syro Malankara Church.

Earlier this year, the Pope had made Mar George Alanchery of the Syro Malabar Catholic Church as Cardinal.


An influential Catholic group from Kerala,Syro Malankara church emerged from the "reunion movement" in the last century, which saw sections of the Orthodox community joining the Catholic old.
A separate rite was sanctioned for the community permitting it to retain its Antiochian liturgical and hierarchical identity and tradition. Cleemis is the fourth head of the Malankara church.

Born at Mallapally in Pathanamthitta district in 1959, Cleemis was ordained as priest in 1986 after his theological studies in Kerala and Pune. He also took a doctorate later from the Pontifical Seminary in Vatican.

After serving the church in different capacities, including that of bishop, Cleemis succeeded Mar Baselios as head of the Malankara church in 2007 as Major Archbishop and Catholicos.