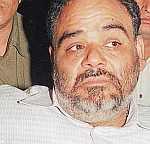 Tension was brewing between liquor baron Ponty Chadha and his brother Hardeep for a couple of days before their killing during a gunfight at a farmhouse and the former's men had tried to take possession of another property on the same day of the incident, police said on Monday.
Police have so far questioned around 100 people in connection with the murders. Eleven teams of police are investigating the case.
Vivek Gogia, joint commissioner of police (southwest), said the property dispute had not reached the court as far as investigators know and their mother and community elders were trying to find an amicable solution to disagreements between the two brothers.
"There was tension in the family for the couple of days before the murders. Efforts were on to find a compromise on the issue," Gogia told reporters.
Talking about the sequence of events, he said Ponty's men had tried to take possession of a farmhouse in southwest Delhi's Bijwasan other than the one in Chhattarpur where Ponty and Hardeep were killed.
He said Ponty's men had on Saturday morning entered Chhattarpur farmhouse, beat up some of Hardeep's men, took away their mobile phones, confined them and threw out some others. There was also firing in air, he said.
A case of hurt, dacoity, abduction and trespass was registered.
"In Bijwasan, another group belonging to Ponty tried to enter the farmhouse and tried to take its possession. A case in this connection was registered and two persons were arrested. They were not involved in the incidents in Mehrauli," he said. In this, a case of intimidation and trespass was registered.
After receiving information about a scuffle in the farmhouse, he said they rushed to the spot and found the body of Hardeep. Six persons, including three PSOs of Ponty and driver, were there at that time. They told the police that Ponty had been taken to Fortis hospital where he was declared brought dead.
Police recovered two pistols from the scene, Gogia said, adding the Delhi police records show that Hardeep has two licenced pistols in his name.
Asked whether a call was made to the police about the scuffle at 11:50 am on Saturday about 45 minutes before the shooting incident, Gogia said one man had called and when the police checked, there was nothing. "It was not Hardeep who called," he said. He said the police are awaiting postmortem, ballistic and forensic reports to ascertain who fired at whom.