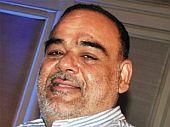 Fifteen people were picked up for questioning in connection with the killing of liquor baron Ponty Chadha and his younger brother Hardeep, who were locked in a dispute over the ownership of a farmhouse in south Delhi.
Investigators said they were looking into the phone call records of Ponty, whose real name is Gurdeep, and his brother, to build the exact sequence of events that led to the incident in which the guards of both brothers opened fire.
Initial investigations have revealed that Ponty's men had gone to the disputed farmhouse and threw out Hardeep's staff and got the gates locked on Saturday morning, a senior police official said.
Hardeep was not at the farmhouse at the time of the incident and was in a meeting in Noida.
Before noon, the official said, Ponty had called a friend, who is member of the UP minorities commission, and told him that they will take a round of the farmhouse.
Hardeep also got to know about Ponty's men taking possession of the farmhouse and he abruptly ended the meeting to rush to the spot.
Ponty along with the commission member and Hardeep reached the farmhouse almost at the same time. Ponty's men had by then opened the gate.
In a fit of rage, the official claimed, Hardeep allegedly opened fire, first hitting Ponty's guard Narender and then Ponty himself.
Then the guards from both sides opened fire, the official said, adding that the PSOs given to the brothers by Punjab police were not involved in the firing.
The official said one of those questioned told the police that the PSO of the commission member opened fire in retaliation.
This is yet to be verified, the official said.
"We are questioning people. Call records are also being checked," the official said.
The family of Hardeep could not be contacted for comments. This was the second incident of firing at Chadha's residence.
On October 5, gunshots were reported from his house in Uttar Pradesh's Moradabad district.
The three Chadha brothers -- Ponty, Hardeep and Rajinder -- were jointly managing the Rs 6,000-crore Wave Inc, formerly Chadha Group, which has diverse business interests in fields ranging from distilleries, multiplexes, sugar to paper mills.