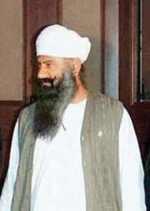 Sacked Uttarakhand Minorities Commission chairman Sukhdev Singh Namdhari was arrested on Friday by a Delhi police team from his residence in Bajpur in connection with the killing of liquor baron Ponty Chaddha and his brother Hardeep.
Namdhari, who was with liquor baron Ponty at the time of his killing in Chattarpur farmhouse in south Delhi, was arrested at his residence in Bajpur in Udhamsinghnagar district of Uttarakhand by a Delhi Police team on charges of trespass.

"We have arrested Namdhari from Uttarakhand. We had send a team there on Thurday following a tip off," Chhaya Sharma, Deputy Commissioner of Police (South), told reporters.

Asked whether Namdhari remains a suspect in the shooting incident, a senior police official said, "As of today, everybody is a supect. We are not into giving any clean chit to anybody. It is the job of court."

Sources said Namdari was not in touch with them after recording of initial statement.

Namdhari refuted reports suggesting that he had gone into hiding after the Delhi farmhouse shootout in which Ponty and his brother Hardeep were killed. "I filed the FIR in connection with the shootout incident and have been always ready to cooperate with the police in its investigations," he said.
On his removal from the minority panel, he said it was a political matter and he would not like to comment on it at the moment.
Namdhari was removed from the panel after his name came under a cloud in the wake of reports about his alleged presence at the farmhouse at the time of the shootout.
Ponty and Hardeep, the brothers who had dispute over properties, were killed when both sides opened fire at each other last Saturday in a farmhouse owned by their family. On reports that the police had no clue to his whereabouts, Namdhari said he never went into hiding.
"I never absconded and neither of my two mobiles was switched off over the past few days as reported in a section of the press," he said, adding, he was always available to assist the police in its investigations into the shootout incident.
"In fact it is me who asked the Delhi police team to come over to my place," he said.
On the farmhouse shootout, Namdhari said, "It was a painful incident."