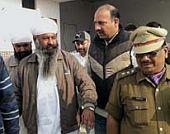 Sacked Uttarakhand Minority Commission chairman Sukhdev Singh Namdhari was on Saturday remanded in police custody for five days by a Delhi court with the police accusing him to be the main conspirator in Ponty Chadha shootout case and saying that he fired at Hardeep Chadha.
Metropolitan Magistrate Sandeep Garg sent Namdhari to five days' police custody saying "the investigating agencies should be given an opportunity for their endeavour to recover the weapon used in the crime."
"In view of the same, accused is remanded in police custody for five days till November 28," the judge said.
During the hearing, the police accused Namdhari of having shot at liquor baron Ponty Chadha's brother Hardeep Chadha at the shoot-out at a Chattarpur farm house in South Delhi last Saturday.
The police said Namdhari in his disclosure statement had admitted that he had fired at Hardeep with his pistol when Hardeep pointed his gun at him.
It also accused Namdhari of being the main conspirator of the shoot out as he was involved in vandalising the farmhouse, besides in the loot, robbery and attempt to murder there.
The investigating agency said he is the main culprit as he in his FIR earlier had not disclosed about the firing and had also hidden his gun.
"I don't want to talk more on this case. I just want to say that it was just an accident and the FIR was lodged by me in this case. I called police myself," Namdhari told reporters while going out of the court premises after he was remanded in police custody.
"It is wrong to say that he fired. It is a matter of investigation," he added.