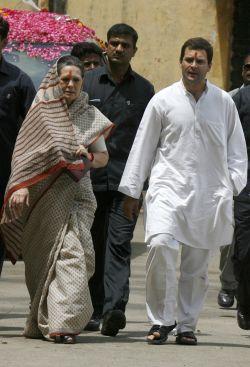 With Lok Sabha elections knocking on the doors, United Progressive Alliance chairperson and Congress supremo Sonia Gandhi and her son Rahul Gandhi appear to have suddenly woken up to the need to develop their respective constituencies -- Amethi and Rae Bareli.
While Congress Vice President Rahul flew in to Amethi on Monday with Aditya Birla group chairman Kumarmangalam Birla in tow, mother Sonia followed course on Tuesday to give some new major development projects to Rae Bareli.
Sonia was accompanied by daughter Priyanka, who has been closely involved in reorganising the Congress network at the grassroots level in the constituency.
Sonia laid the foundation of a wheel manufacturing unit for the Rail Coach Factory where production has already begun albeit on a very low scale. The wheel factory was slated to be the "largest unit of its kind in the country."
She also performed the 'bhoomi pujan' for setting up of an All India Institute of Medical Sciences in Rae Bareli town where the Akhilesh Yadav government had already allotted land for the purpose.
Addressing a pubic rally at the Rail Coach Factory, Sonia sought to emphasise on the benefits that the much-debated Food Security Bill was bound to accrue to the common man. Blaming the state government for retarding the pace of development in her constituency, she said "non-availability of power was the main hurdle in the development plan laid out by the UPA for Rae Bareli".
She also chaired a meeting of the constituency development monitoring committee.
On Monday, Rahul had laid the foundation for setting up of a giant food processing hub by the Aditya Birla group in Amethi.
Amethi and Rae Bareli might have been pocket burrows of the Gandhi family for decades, but this was the first time in many years that both mother and son have risen to the occasion to realise the backwardness of both the constituencies which look no better than a bigger village.
Having been complacent because of the huge popular support they received over the decades, what apparently woke them from their slumber was the result of the 2012 state assembly election. Congress lost in three of the five assembly segments in Amethi and four of the five assembly segments in Rae Bareli, leaving the mother and son totally flustered. Their frequency of visits to their respective constituencies went up in the aftermath of the assembly poll. Besides Sonia and Rahul, Priyanka too made repeated forays into Rae Bareli in particular, focusing largely on overhauling the Congress network at the grassroot level.
Image: Reuters