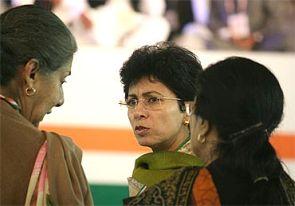 Union minister attacked! Haryana's Congress politics gets uglier by the day. Anita Katyal reports.
Union Minister for Social Justice and Empowerment Kumari Selja narrowly escaped serious injury in a stone-throwing incident during the maiden run of the Kalka-Sainagar Shirdi Superfast train on Sunday, October 6.
The incident took place between Kalka and Chandimandir near Manakpur village, barely ten minutes after the minister flagged off the new train.
Selja travelled in the train till Chandigarh where she participated in a programme with former railway minister Pawan Kumar Bansal.
Selja told Rediff.com that she was initially seated in the rear section of the general coach, but was urged to move up to enable her to wave to passersby and party supporters since the window near that seat did not have bars.
The minister had barely settled down when she heard loud sounds which she later realised were stones being hurled at the train. One stone sailed through the open window and hit her shoulder, just missing her face.
The incident has set alarm bells ringing in the Congress as it comes against the backdrop of the long-standing bitter factional battle in its Haryana unit.
Selja and Rajya Sabha MP Birender Singh Chaudhary are known to be opposed to Haryana Chief Minister Bhupinder Singh Hooda.
Selja refused to point fingers at anybody. "I can't say who is to blame for this incident; it could be anybody. I leave it to you and the people to decide," she remarked, adding this was the first time she has been attacked in her career.
"I have been in politics for 25 years, but I have never encountered any hostility from within the party," she said.
Selja, the only Dalit lady leader from Haryana, represents the Ambala Lok Sabha constituency. She started her ministerial career as a deputy minister in the P V Narasimha Rao government and has since steadily moved up the ladder, and was elevated as a Cabinet minister in 2009.
Close to Sonia Gandhi, Selja escorted the Congress president when she took ill in Parliament during the monsoon session.
The rivalry between the Hooda and Selja-Birendra Singh camps has been building up in recent years. Ironically, Selja played a key role in Hooda's appointment as chief minister in 2005.
Nearly five months ago, Sonia Gandhi summoned Selja and Hooda to resolve their differences.
During a Haryana Congress meeting on Sunday, party General Secretary in-charge of the state Shakeel Ahmed urged leaders to put up a united front and not air their grievances in public.
Hooda's rivals complained that they were not given an opportunity to speak at the meeting while the chief minister's supporters were given the floor.
The factionalism was also on display when Hooda and Selja's loyalists hurled abuses at each other at a recent meeting at the Yamunagar district Congress committee office. The rival groups also organised separate rallies as a show of strength.
Birender Singh Chaudhary took the lead when he held a rally in Jind in August which was attended by Hooda's detractors who have been accusing the chief minister of lop-sided development in the state.
The Congress leadership appears clueless about reining in Hooda. The recent controversies involving Sonia Gandhi's son-in-law Robert Vadra's land deals in Haryana appear to have emboldened the chief minister.
Lok Sabha MP Deepender Hooda, the chief minister's son, is known for his proximity to party Vice-President Rahul Gandhi. Deepender has been given charge of social media in the party's communications department.
When Hooda's rivals listed their grievances before Rahul Gandhi some months ago, he chided them for undermining the chief minister.
Image: Kumari Selja, centre, with Ambika Soni, left, and Girija Vyas. Photograph: Uttam Ghosh/Rediff.com