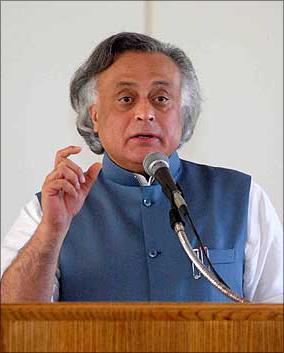 Indicating strong disciplinary action against certain dissident party leaders in Odisha, Union Minister and senior Congress leader Jairam Ramesh on Wednesday said politicians should have age for retirement from politics.
"There must be a time limit to remain in politics. There should be a retirement age for politicians also," he told mediapersons hinting at at some elderly leaders in the party who are suspected to have encouraged dissidence activities in the party in the state.
He said this while replying a question on dissidence within Congress in Odisha. Though he did not take name of any senior leader behind the dissident groups within the party, Ramesh made an apparent reference to J B Patnaik, the former chief minister and the present governor of Assam.
Patnaik's son-in-law and former Member of Parliament Soumya Ranjan Patnaik, meanwhile, has been issued a show cause notice by the disciplinary committee of the Odisha Pradesh Congress Committee for allegedly running a parallel organisation.
On the Congress' debacle in the recently concluded urban local body elections in the state, Ramesh said, "We will crack the whip against the dissidents in the party soon. The party is paramount and nobody is above the party. If any individual thinks that he is above the party, then he is free to leave.
Ramesh, who is considered close to Sonia Gandhi, said, "We will not tolerate multiple centres of power in Congress. The Congress is one organisation and the PCC president has the full authority to act against dissidents."
Ramesh had a closed door meeting with some senior leaders, including OPCC president Jaydev Jena, former Chief Minister Giridhari Gamang and Leader of the Opposition Bhupindar Singh to discuss possible action against the dissidents.
Jena had earlier said that the party will take action against certain leaders those who fielded candidates against official candidates in the ULBs polls.