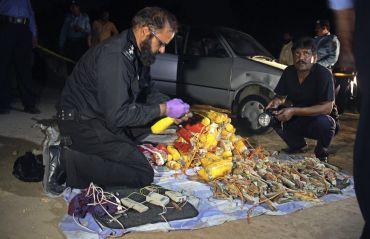 Pakistani police on Tuesday said they had defused a car bomb near ex-President Pervez Musharraf's sprawling farmhouse in Islamabad, prompting authorities to beef up security for the former military ruler.
The car was found about a kilometre from the five-acre farmhouse at Chak Shahzad on the outskirts of the capital.
The car, fitted with about 50 kg of explosives, was intercepted this evening, police told the media.
The farmhouse was declared a sub-jail last week after an anti-terrorism court remanded Musharraf to judicial custody for a fortnight.
No arrests were made in connection with the incident.
Islamabad Police chief Bin Yamin told reporters that the car contained between 45 kg and 50 kg of explosives, detonators, primer cord and fuses.
The explosives were enough to destroy a large building, he said.
Police had found some clues in the car, including a visiting card, he said.
Musharraf's security had been beefed up after the incident and the number of check posts around the farmhouse at Chak Shahzad had been enhanced, Bin Yamin said.
Explosives were found hidden in the doors and rear portion of the white Suzuki car, other police officials said.
The car's registration number -- QM 749 -- was that of a vehicle owned by a woman in Islamabad, they said.
Local residents had alerted police about the suspicious car at about 6 pm, a policeman said.
Footage on television showed a large pile of explosives that were removed from the car, which was taken to a nearby police station.
Policemen could be seen removing more explosives fitted around the car's engine.
Officials said the explosives had been defused by a bomb disposal squad.
Muhammad Amjad, a senior leader of Musharraf's All Pakistan Muslim League party, claimed the incident was a "conspiracy" to declare the former President's farmhouse unsafe and move him to a prison.
Musharraf's farmhouse on the outskirts of the federal capital was declared a sub-jail last week after the Islamabad high court revoked his bail and ordered his arrest over the detention of more than 60 judges during the 2007 emergency.
The banned Pakistani Taliban have threatened to target 69-year-old Musharraf.
A Taliban spokesman has said that a special squad of suicide bombers and snipers has been formed to attack Musharraf.
Officials have said the threat faced by Musharraf was one the main reasons for the decision to detain him at his farmhouse instead of sending him to prison.
Image: Security officials display at a police station in Islamabad the explosive found hidden in a car (rear) that was parked near the residence of Pervez Musharraf.
Photograph: Sohail Shahzad/Reuters