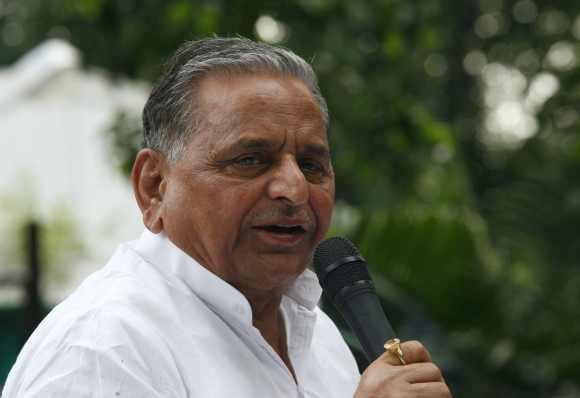 Amid renewed efforts to get the Samajwadi Party on board on the issue of quota in promotion bill, Prime Minister Manmohan Singh on Thursday talked to party supremo Mulayam Singh Yadav.
Senior SP leader Ram Gopal Yadav was also present during the deliberations. There were no immediate indications of the SP, which has been staunchly opposing the measure, changing its stand with a senior party leader making it known that his party cannot support the Bill.
The prime minister's meeting with Mulayam Singh came in the backdrop of growing impatience on the part of Bahujan Samaj Party supreme Mayawati to get the Bill passed at the earliest.
While the BSP wants the government to bring the bill for consideration in the Rajya Sabha where it is pending, the SP has maintained that it was unconstitutional and deprive 80 per cent of employees of promotional avenues.
SP members of Parliament have threatened to disrupt the Rajya Sabha every day, if needed, to prevent a debate on the Bill.
Agitated over delay in consideration of the bill, BSP chief Mayawati had on Wednesday targeted Rajya Sabha Chairman Hamid Ansari over disorder in the House for several days due to which the legislation could not be taken up for consideration and passage.