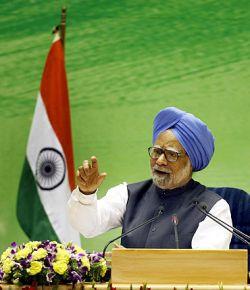 Prime Minister Manmohan Singh may intervene in the discussion on several files pertaining to coal block allocations going missing, Minister of State for Parliamentary Affairs Rajeev Shukla said on Thursday.
Shukla made the announcement after main opposition Bharatiya Janata Party and All India Anna Dravida Munnetra Kazhagam stalled Question Hour in Rajya Sabha seeking response from the prime minister on the issue of missing files.
"Prime Minister may also intervene in case it is required," Shukla told the House, which saw a brief adjournment after it met for the day.
He said that in response to demands by Leader of the Opposition Arun Jaitley and several members, Coal Minister Sriprakash Jaiswal made a statement on the issue on Tuesday.
"Some clarifications were sought (and) clarifications were given. (However) it remained inconclusive. We are ready to conclude that discussion and if necessary prime minister may also intervene," he said.
The response came after Jaitley said the opposition was not convinced by Jaiswal's statement and prime minister should give clarification.
"The prime minister is in the House... Prime minister should give his reaction," he said as Singh watched the proceedings from his seat.
V Maitreyan (AIADMK), who had given a notice for suspension of Question Hour, said missing of important files has been termed by CBI director as a "serious set back" to investigation.
The CBI director had stated that "you can draw your own conclusions" when asked if there was a conspiracy in files going missing, Maitreyan said, adding this was a serious issue and "Prime Minister necessarily needs to intervene and clarify the matter."
Earlier, when the House met Ravi Shankar Prasad (BJP) said Jaiswal should not have made the statement as it was in conflict of interest since he was arbitrator in deciding on a family feud in AMR Co, which was a beneficiary of coal block allocation.