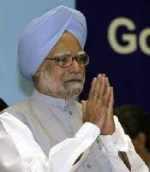 Ahead of the Parliament session beginning November 22, Prime Minister Manmohan Singh is meeting leaders of the United Progressive Alliance constituents and outside supporters to firm up a strategy to unitedly face any Opposition onslaught on issues like the Foreign Direct Investment in retail and price hike.
Dr Singh is hosting dinner for the leaders of allied parties during which the strategy would be discussed for the upcoming winter session, sources said.
Samajwadi Party leader Mulayam Singh Yadav and his son Akhilesh Yadav, Chief Minister of Uttar Pradesh, and National Conference leader Farooq Abdullah were invited for dinner on Friday night, the sources said.
Leaders of other allies like the Nationalist Congress Party, Bahujan Samaj Party, Dravida Munnetra Kazhagam and Rashtriya Lok Dal have been called for dinner on Sunday, they said.
The PM will be discussing how the United Progressive Alliance and allies can unitedly face in the Parliament the Opposition, which is gearing up to attack the government for allowing 51 per cent FDI in multi-brand retail besides hike in diesel price and cap on subsidised LPG cylinders at six per year.
The Trinamool Congress, which quit the government over two months back, has vowed to rake up these issues during the upcoming Parliament session and even threatened that it could move no-confidence motion.
The PM has been maintaining that the recent decisions, including FDI in retail, will benefit the common man and has been accusing the Opposition of spreading misinformation.
Dr Singh has been insisting that "tough" and "difficult" decisions are necessary to boost the sagging economy and create jobs.