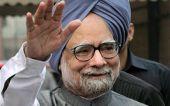 Reaching out to the principal Opposition for smooth functioning of the upcoming Parliament session, Prime Minister Manmohan Singh has invited BJP leaders, including L K Advani, for dinner on Saturday.
Besides Advani, Singh has invited Leader of Opposition in Lok Sabha Sushma Swaraj and her Rajya Sabha counterpart Arun Jaitley, sources said.
The meeting acquires significance as the BJP is preparing to corner the government over various issues like FDI in retail, corruption charges, hike in diesel price and cap on subsidised LPG cylinders during the Winter Session beginning on November 22.
The government is trying to rope in support of BJP to ensure passage crucial Bills which have been hanging fire for long. These include Lokpal Bill, Land Acquisition Bill and the Food Bill in the upcoming session besides the proposed legislations on insurance and pension.
"The Parliament session has a very heavy legislative agenda. We are reaching out to the various political parties to carry through these agenda in the four weeks that we have for the session," Finance Minister P Chidambaram said today at a press conference in New Delhi.

"We sincerely hope that the forthcoming session will be a productive one and many bills will be passed. My suggestion is that not one issue should be blown out of proportion. There are many very important issues that concern the welfare of people and future of country," he added.  

BJP and its NDA allies have hinted that they may disrupt Parliament to press for discussions on issues including FDI in multi-brand retail, price rise, scams, corruption.

They are coordinating with other like-minded parties, including the Left. The Opposition may press for voting on certain issues.
Most of the last session of Parliament had got wasted due to BJP's persistent attack on the government over corruption issue and the ruling dispensation is making efforts to avert the repeat of that situation.

Though it has now become almost customary for the Prime Minister to invite the top brass of the principal Opposition for dinner before each session, Saturday's meeting is important as the government wants to break the virtual deadlock.