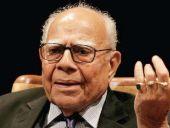 Senior advocate and suspended Bharatiya Janata Party MP Ram Jethmalani on Friday said any party, which wants to come to power after the next Lok Sabha elections, should declare its prime ministerial candidate in advance.
Talking to reporters during a private visit in Vadodara, Jethamlani said, "The political party wanting to come to power should declare the name of its prime ministerial candidate in advance, for giving people enough time in selecting the party." He was replying after being asked for a comment on newspaper reports which said that former BJP chief Nitin Gadkari had assured Janata Dal-United leader Nitish Kumar that Gujarat Chief Minister Narendra Modi would not be projected as prime ministerial candidate of NDA. Gadkari, however, has refuted the reports.
In the past, Jethmalani had advocated Modi as candidate for prime minister's post. The Rajya Sabha MP also said that JD-U's possible departure from NDA will not make any impact, but "it will hurt Nitish". "People want change and there will be change in the government at the Centre after the polls," he said.
Jethmalani was suspended from the BJP on November 26 last year for attacking the party stand which had taken a critical view of the appointment of Ranjit Sinha as the director of the Central Bureau of Investigation.